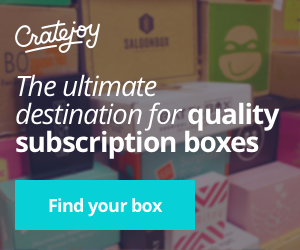 Happy Sunday, Everyone!
I hope you are all having a lovely weekend.  Valentine's Day (or Galentine's Day) was this past week, and I personally love using this day to show myself some self-love and affection.  I strongly encourage you to do the same!  You, more than anyone, deserve your love and affection.
In the spirit of self-love, I wanted to share with you my Top 5 Subscription Boxes that are perfect for treating yourself.  Also, they are 25% TODAY ONLY!
Use the code BEMINE25 on any of these subscriptions to snag your discount
I hope that you enjoy learning about these subscription boxes as much as I enjoy sharing them with you!  Each of these boxes are designed to help you practice self-love while spoiling yourself just a little bit. I am sending lots of love your way!
Happy Shopping!
Ashley
My Top 5 Subscription Boxes

For the self-help loving, personal growth devoted woman on a mission to be the best damn version of herself she can be.
Receive a thoughtfully curated experience that helps you to reconnect with who you are and live life on purpose. Join our community, women's circles, and receive a one-on-one coaching session each month! Made by womxn, for womxn.
Beautifully and thoughtfully created – makes the perfect gift!
(1) Smart personal growth book
(2) resources to help the strategies from the book stick, such as workbooks, journals, and webinars
(3-5) self-care items that bring the ideas to life, such as eye-masks to help you sleep, tea to help you relax and practice mindfulness,
access to our incredibly vulnerable online community with webinars, Women's Circles, interviews, and a 30-minutes one-on-one coaching call with featured coaches each month to get you un-stuck.
This box is my personal favorite!  I love its emphasis on self-care and living life on purpose.  It is a complete experience in a box!
Our Concept is Simple: Relax, Unwind & Experience
Sweet Escape is a monthly subscription of assorted spa products designed to help you experience a relaxing getaway for your mind and body.  Let us send you 5-6 handcrafted, full-size, lavish bath products, comforting teas, and a relaxing novel designed to take you away from day to day stress. It makes a perfect gift for anyone who loves to relax.
Mini Sweet Escape includes 2-3 handmade, full-size luxurious bath and skin care products
Deluxe Sweet Escape includes 5-6 handmade, full-size amazing bath and skin care products
Both boxes include a novel (you choose the genre during checkout), relaxing teas, and a recipe card to make a rejuvenating beverage to go along with your themed bath experience.
Our hand crafted products include an assortment of luxurious cold-processed soaps, rich body butters, emulsified sugar and salt scrubs, bath teas, luffa soaps, soothing lotions and balms, milk baths, large bath bombs, clay masks, aroma beads, candles and so much more. We continuously search for today's exciting trends in bath care to create new products to make your bath time delightful.
We use natural oils in all of our soaps and skin care products
I personally love to read while I'm taking a bath, and this box gives you everything you need to unwind and chill with aromatherapy and a good book.  This box is the ultimate self-care box for bibliophiles!
Story Boxes – The Next Chapter Awaits…
Introducing our monthly Story Box series! Each month, we will offer a new candle box that tells the next part of the story of some of your favorite fandoms ❤️ Boxes will also include one or two extra little surprises each month! Choose between Harry Potter, Lord of the Rings and Outlander inspired boxes!
Limited Edition Candles in every box!
Only all-natural, plant-based waxes used in our candles
Collectible Story Box Cards help tell the next part of the story
One or two extra little goodies included every month!
This box is super fun because it provides you with unique candles that are designed to go with some of your favorite stories!  I love burning these candles when I read to add to the atmosphere.
The body-positive monthly goodie box
The Body Love Box is the friendly, fat-positive, body-positive, intersectional and LGBTQIAP+-affirming monthly subscription box that improves your body image and pays a living wage to marginalized artists who contribute their work to the box. Your monthly goodie and resource kit includes 5-7 full-size items each month like pins, zines,
Improve your body image and learn more about body acceptance and liberation
Get exclusive Body Love Box-only artwork and products
Support a living wage for fat and marginalized artists with every box
Explore Health at Every Size and intuitive eating
5-7 full-size items each month
Can I just say how much I ADORE this box?!  It is all about loving yourself and your body while fighting weight stigma and supporting artists.  
Themed shirts and boxes with hilarious products.
Smartass & Sass is a gift and subscription service for snarky individuals and cynical a**holes. We hand-select products from artists and small businesses and work with manufacturers to produce brand-new items that are sure to make you giggle. Subscribers also help us decide on items and have access to a secret sale shop. Join our community today!
3 subscription options: shirt, box, or shirt & box
5-7 items per box
Items include: mugs, bags, notebooks, apparel, and more!
Shirts are soft-blend unisex and printed locally (size chart image above)
Ships internationally to Canada, Mexico, the UK, and Australia
Need some more sass in your life?  Then this is the perfect subscription for you!  It provides you with everyday products that have a sassy flair.  I love how outrageous their items are!
Let me know in the comments if you are going to try any of these subscriptions or have tried them in the past!  I'd love to hear about your experience. 🙂